A New Future for Stoke Park
About Reliance Industries
Reliance Industries Limited are the parent company who now own the long lease of Stoke Park. Buckinghamshire Council remain the freeholder. Reliance Industries Limited purchased the property as a commercial acquisition and are committed to working with the long established Stoke Park management team to bring forward a refurbishment and enhancement project that will safeguard this famous hotel and historic golf course for the future.
As one of the most successful companies in India, Reliance Industries Limited brings a wealth of talent, expertise and funding to the future plans for Stoke Park and working with Stoke Park Limited who have hired an experienced consultant team to deliver on their vision for Stoke Park to become one of the premier hospitality and golf destinations in the world. 

The Oberoi Group is a luxury hotel group with its head office in Delhi. Founded in 1934, the company owns and operates 31 luxury hotels and two river cruise ships in 5 countries, primarily under its Oberoi Hotels & Resorts and Trident brands. Reliance Industries currently own a 20% over all stake in Oberoi Hotels & Resorts.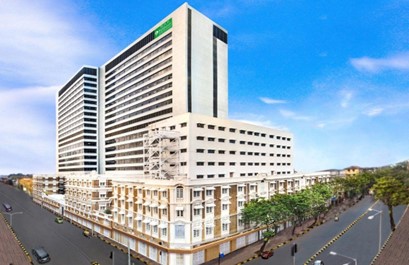 Sir H. N. Reliance Foundation Hospital and Research Centre, managed by Reliance Foundation, is located in Girgaon, Mumbai, India. Founded in 1925 by Gordhandas Bhagwandas Norottamdas it was renovated and reopened in 2014.  The hospital was taken over by the Reliance Foundation in 2006. The 7-floor old heritage building and the 22-floor building behind it were renovated starting 2011. It was inaugurated and rededicated by the Indian Prime Minister Narenda Modi on 25 October 2014.
The Jio World Centre is a business and cultural hub in Bandra Kurla Complex, Mumbai. Spread over 18.5 acres, it is a business, commerce, and cultural destination. This mixed-used development includes India's largest convention facility – the Jio World Convention Centre, Fountain of Joy,  multi-venue Cultural Centre, restaurants, luxury retail, serviced apartments, and offices. This  Centre has been developed with an international design vocabulary, while honoring the culture and spirit of India.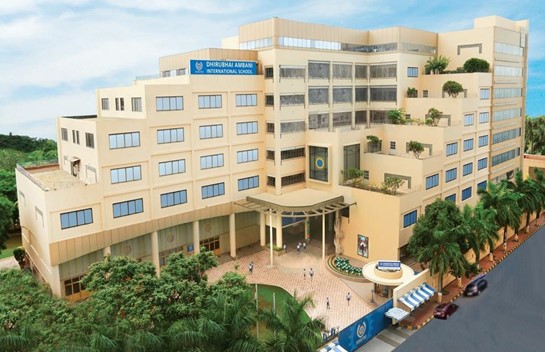 The Dhirubhai Ambani International School (DAIS) is a private co-educational LKG-15 day school in Mumbai, Maharashtra, India, built by Reliance Industries, named after the late patriarch of the conglomerate, Dhirubhai Ambani. The school was  established in 2003 and has been an IB World School since January 2003. It offers the International Baccalaureate Programe in its Diploma form. Nita Ambani, is the chairperson of the school.

Reliance Industries Limited (RIL), through Reliance Foundation, has significantly contributed to and made measurable progress toward its vision of an inclusive India. Moving well beyond its business activities, the RIL Group contributes to a positive societal impact through diverse community engagement initiatives.
Led by Smt. Nita M Ambani, Reliance Foundation was set up in 2010 to provide impetus to various philanthropic initiatives of RIL. The efforts of the group have already touched the lives of more than 57.5 million people across India in more than 50,600 villages and several urban locations.
If you have any questions or queries relating to the consultation, please do not hesitate to contact the team at ndownie@stokepark.com
Stoke Park, Park Road, Stoke Poges, Buckinghamshire SL2 4PG